---
Hi-Tech Security Systems - Human Factor Articles
Contributing Editor - Dr Craig Donald
CCTV TRAINING AREAS - June, 1999, Vol 5 No 4.
Click here for Human Factors Articles - Visit the Human Factor Discussion Forum
---
CCTV training is often associated with how to operate the equipment and software systems an organisation uses. The CCTV "system" that one has to look at, however, is far broader. If you want functional CCTV systems that are in line with operational requirements, installed to specification and working effectively, and managed and operated efficiently, you need to ensure that your people are trained.
A number of people are all involved at different stages of the CCTV implementation process that I have illustrated in the diagram below. This diagram shows one perspective of the CCTV process - other aspects could be added or emphasised.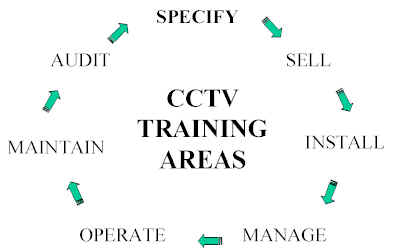 Who should be trained and on what is somewhat complicated by the fact that different parties could be involved in any of the areas illustrated in the process. Security managers and other personnel of the company, security consultants, and suppliers and installers could all be involved in specifying, installing and the operation of the system. Specifications, including the identification of operational requirements, are usually drawn up by company personnel, although security consultants may be involved at this stage. Selling of systems and equipment may be done by a supplier or an integrated systems provider. Installation could be the responsibility of company personnel, a systems provider, a consultant or a combination of these parties. Management of the CCTV system and the control room is typically an internal company responsibility, but some of these responsibilities are being contracted out at this stage. The same applies to CCTV operators. Technical maintenance of the system may also be done internally or through contracted arrangements, usually through the systems installer. Finally, auditing of systems is ideally the role of management within the company, but this could be performed by outside consultants or companies providing an audit function – if fact a combination of these approaches is probably most suitable. However, as Mike Tennent of Tavcom Training makes the point in an accompanying article in this edition, one needs to be able to expect a designated level of professional competence from whoever is responsible for a particular aspect of your CCTV system. Ensuring that the person gets the relevant professional training and ideally some kind of training certification is one way of establishing this.
Rather than highlighting what training is required from each stage in the process, I have focused on the different areas of training that should be covered. Technical knowledge, for example, is required for most of the stages in the implementation process. In highlighting the training areas I have also drawn extensively from Tavcom Training's training model and aspects of their course design (see note on Tavcom at the end of this article or go to http://tavcom.com). Each area has a short list of some of the possible training considerations that should be covered in that area.
Technical

Integrated system design

Systems installation and commissioning

CCTV fault finding

Cameras, lenses, monitors and suitability to task

Cabling, power and transmission methods

Video recording and data storage

Sales

Equipment specifications and parameters of use

Integrated systems sales and design

Sales techniques and customer relations

Operators

System hardware and software operation

Operating policy and procedures

Surveillance and observation skills

Body language (non-verbal behaviour)

Legal requirements including laws of evidence

Management

Risk management and analysis of operational requirements

Codes of practice and standards

CCTV and control room management

Project management

Audit methods and procedures

Control room systems and procedures

Tape and data management

Data analysis skills

Legal requirements
The rapid growth of CCTV internationally and technological advances have put enormous demands on personnel in the security industry. The generation of guidelines for CCTV operation, standards, and industry groups have been an initial reaction to establish professional expectations in the industry. However, CCTV growth and technology has typically outpaced the development of training courses and accepted industry qualifications for people who have to implement and staff the systems. The skills shortage is accompanied by a move into CCTV by personnel from outside the traditional security field, such as information systems. Training is therefore critical across the whole CCTV implementation and management process and is something that needs to be urgently addressed in organisations across the whole of the CCTV industry. In the next few articles we will focus in more depth on some of these training inputs outlined above, particularly with respect to CCTV management and operator issues.
Readers are invited to submit their comments, contributions and concerns on training issues to the author as well as details on any training that they are doing for potential coverage in these future articles. Email Dr Craig Donald at craig.donald@leaderware.com .
Tavcom Training is a leading UK based training and consulting organisation which has conducted extensive training in Europe, Africa and the Middle East. Tavcom courses cover the full range of the CCTV implementation process and are recognised by a number of major certification bodies in the UK including the Security Industry Training Organisation (SITO), the International Professional Security Association. They are also establishing correspondence courses, including one on CCTV and Control Room Management. Mike Tennent of Tavcom can be contacted in the UK at 01489 895099 or you can access the company's web site at http://tavcom.com.
© Hi-Tech Security Systems